รายละเอียดสินค้าของ SOLAM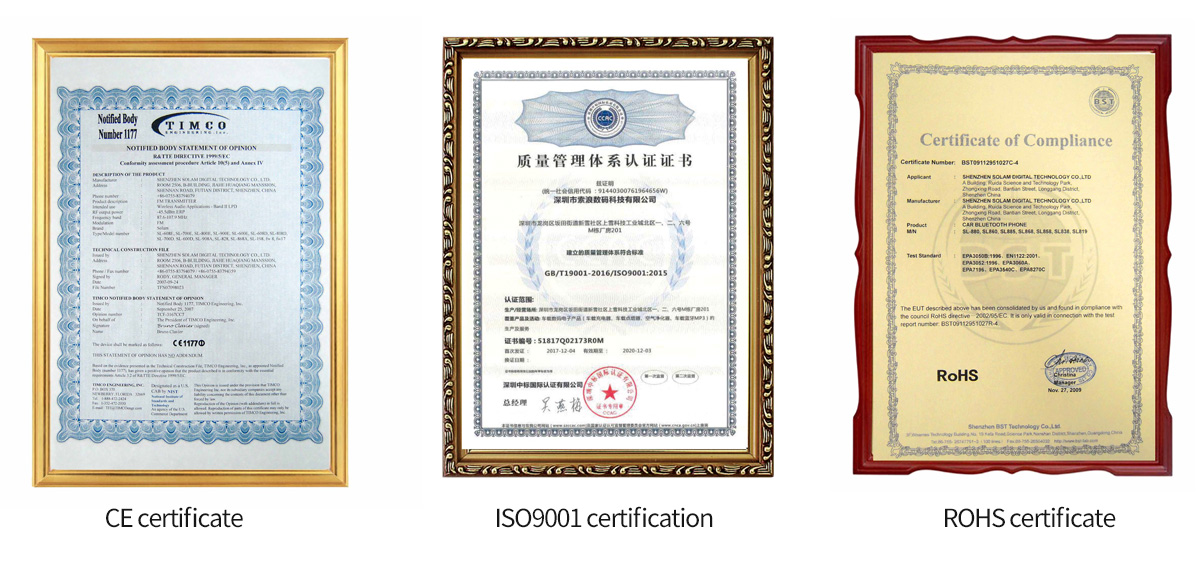 Shenzhen Solam Digital Technology Co., Ltd., established in 1999, is a high-tech enterprise specialized in the development, production and sales of various types of car digital products, including car MP3/MP4 players, Car Bluetooth speakerphones, tachograph and car chargers and other automotive electronics products. Since the establishment, the company has been committed to leading technological innovation in the field of car digital products by insisting in the enterprise belief - "professional, innovative and efficient", and has been highly praised by the customers with the leading technology, high quality products and good after-sales services.
The factory of Solam is located in Floor 2, Building A, Ruida Science and Technology Park, Zhongxing Road, Bantian Street, Longgang District, Shenzhen City, with more than 200 employees including 20 R&D personnel, covering an area of 2,500 square meters, with five chip mounters and five production lines. The company has a strong R&D team,Advanced technology and equipment to maintain a sustained rapid growth and development through high-end technology and product positioning, accurate market positioning and strong innovation. The company always provides good products at high speed, and strives for larger resource investment into research and development of products and technologies, to return users with better products and services.
Solam event
In October 2011 Company was awarded the "Excellent Product Award in China International Hi-Tech Fair".
In October 2009 Company successfully developed the latest generation of car intelligent radio telephone and calling-answering car Bluetooth speakerphone system, and removable portable car network MP3/MP5 players, and successfully applied for the national appearance and utility model patents, broken through the traditional concept of car Bluetooth devices and car players, to make the drivers enjoy the fun of driving with more humane,More practical design and innovation concept.
In December 2009 Company was recommended as the "Chinese Integrity Enterprise Right Protection Alliance Unit".
In February 2009 Company was awarded the "2008 Top Ten Brands in Auto Accessories Industry in China".
In June 2009 Car series products won the overseas "ROHS" certification.
In March 2008 Company became the car MP3 supplier of BYD Auto
In March 2008 company was awarded the "Quality Supplier of HC car MP3, MP4 and MP5".
In February 2008 Company became a "Strategic Partner of HC Auto Accessories Website".
In March 2008 Company became a "Member Unit of Product Anti-counterfeiting Technology Service Center of Shenzhen Quality and Technology Supervision Bureau".
In September 2007 Car series products won the overseas "CE" certification.
ติดสอบถามข้อมูลของ SOLAM